A Deadly Path is a short story thriller with a strong family theme like the Tom Stone Detective novels.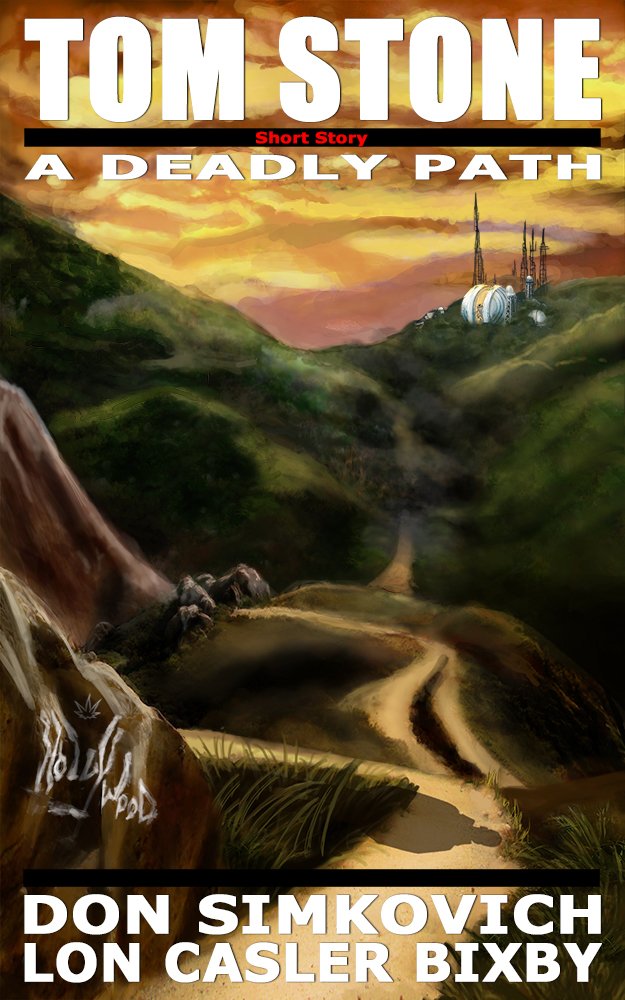 Detective Jake Sharpe wants to get his 12-year-old son Darrell out from behind video games and into the foothills surrounding Los Angeles. Jake chooses a hiking trail to a waterfall that he and his wife Tasha took the kids on when the children were younger.
Tom Stone and the boy he befriended in the foster care group home, Andrew, join the hike which is filled with the complaints of a pre-teen trying to go his own way in life and the antics of Andrew, a nine-year-old boy who still bears the emotional scars of a troubled home life in his toddler years.
If you live in the greater Pasadena area, can you guess what location inspired the cover for A Deadly Path?
Read this post that we wrote the other week and you can learn more about it.
The story will be on Amazon by late October.
Get A Deadly Path for free
Join our newsletter that we send out twice a month and we'll send you a free pdf of A Deadly Path. Click here to access the url that looks like this:
Your privacy is always respected.
Here's an excerpt from the story:
"Aren't we there yet?" moaned Darrell. "How much farther?"
"Not too far. Just enjoy it." Jake undid his pack and pulled out a bag of trail mix. "Want some?"
"No thanks." Darrell reached in his and grabbed an apple.
"I didn't bring you here to torture you," Jake sighed. "I thought we might have a nice time together."
"Yeah, I know, Dad." Darrell looked around.
"You guys begged to come here when you were little." That was another world and another era.
"It's cool."
Jake put on his pack. "Glad to hear."
"It'll be cool to see the falls," mumbled Darrell.
Suddenly, Jake had an idea. "Want to have some fun?"
"Sure, whatever."
"We can beat them to the falls," said Jake, smiling.
"How? They're already ahead of us."
"I know a short cut. It has some steep parts but it'll save a lot of time."
"Cool."
"Can you imagine their faces," laughed Jake, "when they show up, we're already sitting there?"
"Yeah, that'd be fun. Let's do it."
"Okay."
"Hopefully Andy won't want to look for his stupid gold," said Darrell.
"Be easy on the kid."
"He's just so, you know, retarded." Darrell wrinkled his face in disgust.
"That's not nice." Jake headed up a clearing to his right, squeezing between boulders and on to a little used path.
"I know. He's just too goofy." Darrell followed along trying not to scrape against the rocks.
"So were you at his age."
"No way."
"He's doing so much better. Just a couple of years ago he wouldn't even go to a park." Jake hurried his pace. "It's partly his age. It's partly what happened to him when he was little. But he's growing up and doing better. Mostly."
Andrew was a puzzle, one of the many thousands of kids who grew up with abusive families and were then put into foster care group homes. But Stone met him during a Christmas toy drive and decided he'd give him as much exposure to a family as possible.
"You and mom talked about that, huh?"
"What?"
"Taking in a kid like Andrew."
"We did. We've wanted to help where we can, but our house is full with you guys. I know you can't understand how good you got it, Darrell."
They climbed up a steep grade. It was just a few more bends to the falls and Darrell got excited about getting there first and surprising Stone and Andrew. They went down to where the canyon widened into a clearing and several tall trees were clumped together like an oasis.
"Hey, didn't we go this way when I was a kid?"
Jake agreed. "We actually did. And we all played hide and seek."
Pop, pop, zing. The sound of a bullet that Jake knew all too well whistled off a rock behind them. "Down."
"What the—?" Darrell panicked.
Another shot rang out and dust rose just a couple of feet away. Jake scrambled behind a boulder and pulled Darrell with him.
"Oh my, God," cried Darrell.
Check out all our Tom Stone stories on our Crime Fiction Books page.